WARNING to all dieters and food lovers who struggle to permanently lose stomach fat…discover why AVOIDING your favorite carbohydrates can damage your metabolism and STOP your body from burning fat…
"Macro-Patterning™ Food Breakthrough 
Proves

 It Works."
Now You Can 
Instantly

 Tweak Your Diet To Burn MORE
Belly Fat Using The ONLY 4 Cycle Nutrition Plan That
Let's You Feast On LOADS Of Your Favorite Carbs
And NEVER Store Them As Fat…

And get this…
You'll Do It As You REBOOT Your Dormant Fat Loss Hormones And "Repair" The Metabolic Damage Of Dieting

In Only 7 Short Days!
Yes, By This Time Next Week You Can Completely "Turn Off" Your Body's

Addiction

 To Burning Sugars And "Trigger" Stubborn Fat To Be Your Body's PRIMARY Energy Source While Achieving 7 Days Of Your FASTEST Fat Loss EverWITHOUT Any Rebound Weight Gain!
No more adhering to strict, complicated diets…
No more struggling to always keep your carbs low…
No more obsessing over counting calories and suffering through 
more food restriction…
Read this Controversial Article by: Shaun Hadsall, Nutrition Author and Stubborn Fat Expert -
So You Can Finally STOP Storing Carbs as Fat
It's no secret that carb abuse can make us all sick, fat, tired and unhappy.
In fact, this article describes exactly how you can reverse the dangerous cycle of carb abuse by using a simple carb cycling method called Macro-PatterningTM to rapidly FIX the metabolic damage of carb abuse and get rid of belly fat in only 7 short days.
Eating carbs the wrong way can instantly "trigger" your body's #1 fat-storage hormone. When this little monster gets activated – it potentially leads to deadly health conditions like obesity, heart disease and even diabetes…..all of which make you age FASTER, feel terrible and store more and more fat each year.
But if you eat carbs the right way…..you can avoid all thisand you'll NEVER have to worry about obsessing over a trendy low carb diet again.
Very few people know this – that's why almost everybody believes that you can't eat your favorite breads or sweet treats if you ever want to get a sexy, flat belly.
But there is a proven way you can reverse this entire DANGEROUS metabolic process. And did you know that it doesn't require a silly, low carb crash diet, miracles pills OR having to "avoid" carbs all the time?
With the 4 proven cycles of fat loss you'll discover below, you can put your body in a fat burning environment every minute of every day. Even while you're sleeping.
Yes, if you use the right strategy, carbs can actually make you LEANER. Young or old, male or female, it doesn't matter. This approach works on everybody.
No more Doctor approved medical weight loss miracles that leave you feeling like crap, damage your metabolism, and literally program your body to gain the weight back.
Keep reading and you'll discover the "smoking gun" evidence that proves that carbs can be used to melt away body fat. I'll also show you a scientific 7 day protocol that will TURN OFF your body's dependence and addiction to burning sugars, and reprogram your body to rapidly get rid of belly fat using the 4 proven cycles of fat loss.
*Top 5 Best-Seller Weekend Entension*
Three Rapid Fat Loss Bonuses
$347 Value – Yours FREE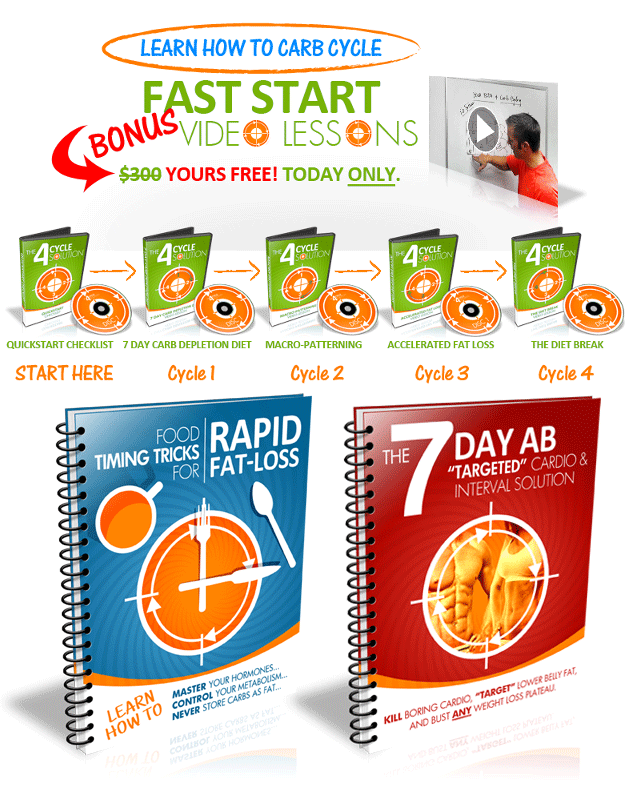 To celebrate the release of The 4 Cycle Solution, when you grab your copy you'll also gain access to what I consider to be one of the most valuable bonus packages EVER.
Bonus #1: The ENTIRE 4 Cycle Solution course on video, which includes all 4 proven Macro-Patterning™ Cycles, to ensure you get a lightning fast start.
Bonus #2: The Food Timing Tricks for RAPID Fat-Loss guide, which promises to KEEP your body in a high energy, fat-burning environment 24/7 round the clock through super simple, yet unknown food timing tricks.
Bonus #3: The 7 Day Ab "Targeted" Cardio & Interval Solution. This protocol is custom designed to double the results of Cycle #1 - while making your stomach look flatter, tighter, and leaner in only one short week.
Again, for everyone who picks up the 4 Cycle Solution system, I'm going to GIVE you all threebonuses for FREE.
After this pre-sale, however, none of these bonuses will never be made available again, even tobuy. The ONLY way you can gain access to them is by picking up The 4 Cycle Solution during this special release event.